As one financial year ends another opens and I hold a great deal of optimism for the year ahead. In closing out FY22 we were pleased to release our updated strategic plan, market sentiment report, submission to the Productivity Commission and thought leadership developed in partnership with Consult Australia.
Strategic Plan
This month we were pleased to share our updated strategic plan. Our plan details our approach of doubling down on efforts to improve industry sustainability with a continued focus on strengthening the three pillars supporting the industry. We believe improved industry culture, capability and capacity, and commercial frameworks are the keys to a more sustainable construction industry, but they also need to be viewed with an environmental lens.
The past year has taught us that our priorities are the right ones, but our approach needs to become more agile. The construction industry is facing significant headwinds, like material price escalation and labour shortages, and government and industry need to work together to find solutions that will benefit everyone. As such, we will be undertaking a series of strategic sprints to achieve measurable outcomes that will help the industry weather the current storm. We will also continue progressing longer-term collaborations with government and other industry stakeholders through initiatives such as the Construction Industry Leadership Forum and Construction Industry Culture Taskforce.
Our ambition is for the industry to be radically different in 10 years' time. We need to fundamentally change the system so contractors compete on innovation, productivity, quality and sustainability—not just price. If all the reforms and actions come to pass, the industry will be seen as global best practice. It will be an industry of choice for future generations of workers and a model for other industries to follow.
Download the 2023 Strategic Plan.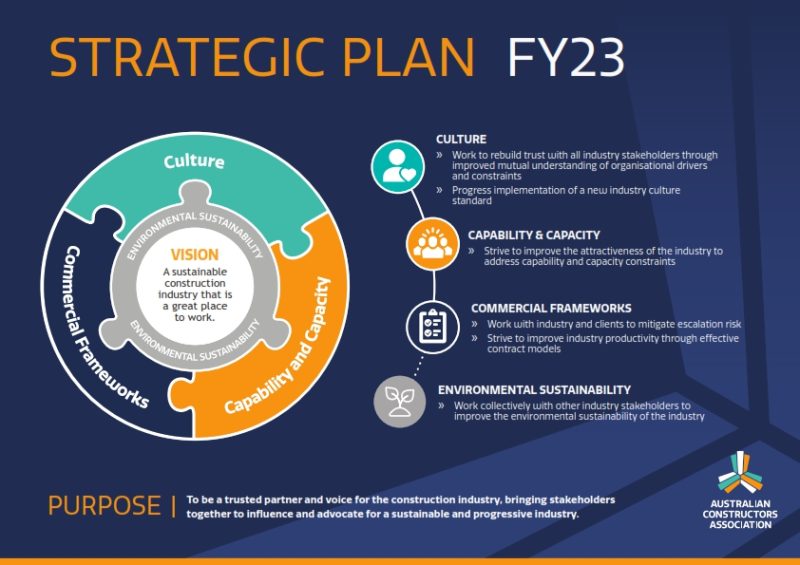 Escalation
In a new partnership with Arcadis, the Australian Constructors Association recently released a market sentiment report that shows labour shortages and major increases in the cost of construction materials are seeing the construction sector across the nation overheat.
The survey of the nation's largest contractors found the construction industry's woes are far from over with key materials pricing and availability under stress and tendering conditions heating up across Queensland, Victoria, New South Wales and Western Australia.
The reality is the construction industry is facing a perfect storm. COVID prompted record investment in infrastructure by governments nationwide and at the same time caused significant delay and disruption to many projects. The increase in work caused huge demand for workers, and flooding events and ongoing wet weather on the East Coast have further delayed projects and increased demand for workers. To top it all off, Russia invaded Ukraine and, with it, oil prices skyrocketed along with the cost of materials.
Undoubtedly, double digit inflation for an industry with single digit profit margins is a recipe for disaster but more so for one that is required to lock in prices for projects that can take years to construct.
Almost 90 per cent of contractors surveyed agreed that inappropriate risk allocations were one of the main causes of higher construction costs. In addition to this, the cost of materials with high iron content like reinforcement, structural steel, ductwork and cables has increased most significantly over the past 12 months. Some contractors have reported an increase in supply costs of up to 70 per cent over the last twelve months.
With the projected pipeline of projects over the next few years, labour shortages and contractor availability are going to become much more pronounced, which will further fuel demand and result in higher construction costs. It is no exaggeration that labour shortages are likely to become the defining challenge of the decade but the answer is not to defer or cancel projects as this could have significant unintended consequences for industry far greater than the problem that is trying to be addressed.
The market is extremely volatile and clients need to recognise we have a shared problem. No one could have foreseen the current environment and clients urgently need to work with contractors to fairly allocate risk and compensate industry for these unforeseen additional costs, irrespective of the contract they have signed. For some, this may mean making compromises elsewhere or cutting back on scope. Either way, it will ensure projects continue to be delivered.
While we are starting to see some government clients include provisions for cost escalation, like rise and fall provisions which we applaud, these are often limited to a particular type of contract or particular commodity when the problem is much more widespread. Going forward, we need to fundamentally change a system that encourages contractors to compete against each other to price and take on unpriceable risk like material price inflation. Instead we need to drive improvements in productivity so that we can do more with less resources which in turn will counter upward pressure on the cost of projects.
The Australian Constructors Association is preparing a thought leadership paper on this issue and will be engaging extensively with government agencies over the coming months.
Download the market sentiment report.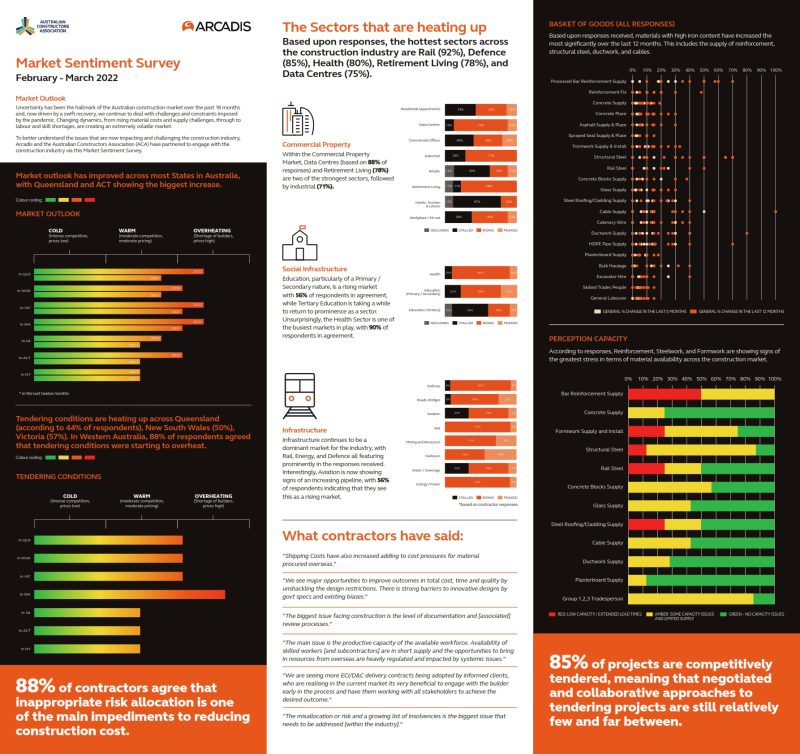 Submission to the Productivity Commission
The Productivity Commission's five‑yearly review of Australia's productivity performance is underway and it could not be more timely. The construction industry presents one of the greatest opportunities to improve Australia's productivity performance. The industry has been called upon to rebuild Australia's economy in response to COVID with record investment in the construction of new infrastructure. Yet the industry, the nation's third largest, remains the second worst performing for digital adoption and continues to suffer from some of the highest rates of insolvencies in Australia.
Reflecting on the challenges in our submission to improving productivity, a consistent theme emerged—top-down government leadership. The role of government as client is critical if we are to cut waste, lower costs and address the ongoing lag in industry productivity.
While our submission highlights key opportunities to improve productivity through procurement, contracts, technology, culture and more, the Australian Constructors Association's proposed major policy reform is the Future Australian Infrastructure Rating—FAIR. FAIR pinpoints the Federal Government, in its role as client, as the ultimate influence over reform implementation. FAIR is simply the mechanism for government. FAIR proposes to rate Federally funded projects against key reform areas to bring about consistent and widespread change. It could be included in the next iteration of the National Partnership Agreement as a requirement for all federally funded projects and to further incentivise quality outcomes, high ratings could unlock access to new funding pools like the previous Asset Recycling Scheme.
There really has never been a better time for a new government to make its mark and implement reform. Industry is ready for the transformation so let's get to work!
Download the submission to the Productivity Commission.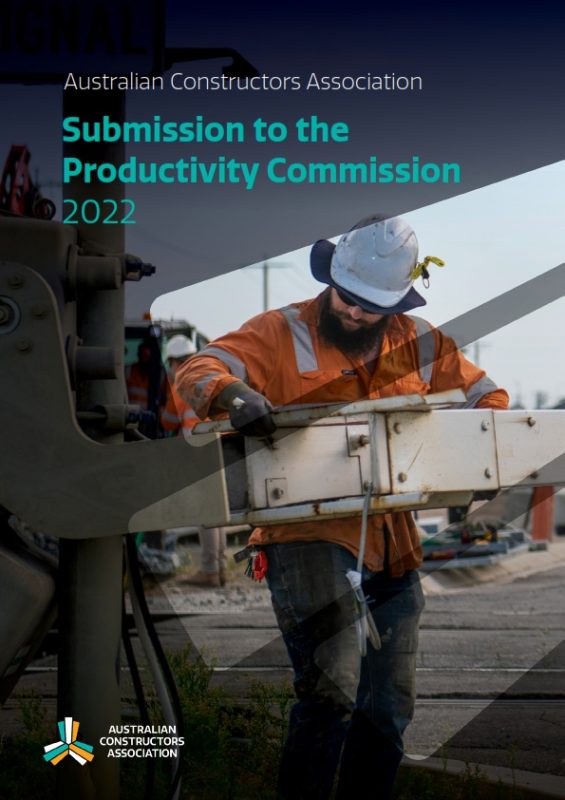 Partnership for change
The scarcity of qualified skilled workers is one of the biggest challenges facing the construction industry and it cannot be solved by migration and training alone. To help the construction, design and engineering sectors build Australia with current resources, the Australian Constructors Association and Consult Australia have joined forces in a new partnership for change initiative to bring forward practical ways for the industry to become more productive.
Kickstarting discussions between government, contractors and consultants, we have released a series of thought leadership papers to help the industry achieve more with less. The papers provide recommendations to aid the adoption of technology, improve reliance on tender information, streamline design reviews and for government delivery agencies to lead the way.
I encourage you to read and share these papers through your networks and I look forward to attending a series of government meetings with Nicola Grayson, CEO Consult Australia to drive uptake of the proposed efficiencies.
Download the Partnership for Change papers: