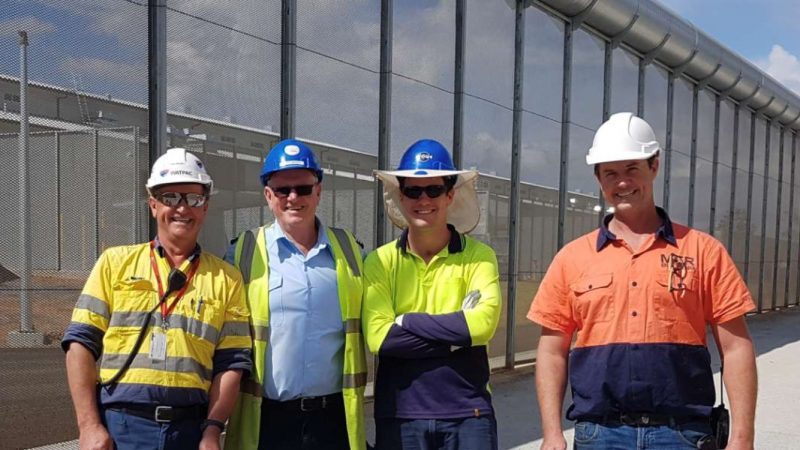 The Mid North Coast Correctional Centre (MNCCC) expansion, led my ACA member Watpac, is ensuring one local Kempsey, NSW family can roll up their sleeves and work together on the Aldavilla project.
The Mainey family quartet, which includes brothers; Watpac Construction Worker, Shane Mainey, MCR Building Leading Hand, Andrew Mainey and Corrective Services NSW Project Officer, Chris Mainey, have been joined by Shane's son, electrical apprentice, Mitch Mainey, to deliver the $126 million project.
Shane Mainey, who lives just 10 minutes away in nearby Dondingalong, says it's been a pleasure to be working on a high-profile project in his local community.
'There's nothing better than to be working on such a significant project in your own backyard," Shane said.
"The project has been great for the area and has provided my son Mitch the opportunity to commence his electrician apprenticeship. I'm proud of the fact that Watpac and the project are creating local jobs and using local businesses.
"And the best thing is the project is not only creating jobs through construction, but it'll provide over 100 new jobs once it's up and running which will be a real boost for the Kempsey economy."
As the project nears the finish line, Watpac Project Manager, Luke Hunter, said the Mainey family illustrated the huge role played by local workers and subcontractors throughout construction.
"As one of the largest construction projects currently underway in the Mid North Coast area we've made a strong commitment to procure and employ locally wherever possible throughout construction," Luke said.
"So, to have people like the Mainey family involved and working on site each day really demonstrates what a massive contribution the local community has made to the success of this project.
"We've had 1,274 workers inducted through the life of the project, including a total of 63 apprentices and trainees, which has been very positive to see.
"And since construction began in early 2018, over 350,000 site hours have been completed with an average of 125 workers on site each day."
The 440-bed expansion will provide a new maximum-security male facility that will provide increased inmate capacity to meet current and future demands at the existing correctional centre.
The expansion includes four accommodation blocks each with 110 beds and an exercise yard, an industries and programs building, clinic, segregation cells, associated custodial offices, a network of secure walkways, outdoor recreational areas including sports fields, and a new secure perimeter that will have an integrated security system.