Autodesk was recently the headline sponsor at the Future of Construction Summit 2022 ("FCON22") in Sydney from May 4-5. In its second year, FCON22 partnered with the Australian Constructors Association and the Australian Achievement Construction Award, bringing together over 450 delegates to learn about and discuss the latest trends and impacts on the Australian Construction sector.
Sustainability was a recurring theme during this year's conference. Most of the attendees have public Environmental Social and Governance (ESG) commitments, and a further 45 per cent have pledged for carbon emissions reductions in the future (2030-2050). Therefore, it was expected and understandable that the Sustainability panel ran by Autodesk was well attended and explored a wide-ranging industry need.
The panel set out to explore the realities of implementing ESG initiatives to achieve a net zero future for construction, including challenges and opportunities within organisations and supply chains. Autodesk structured the discussion around the principles and enablers identified in the research paper: A Net Zero Future: Delivered through our Infrastructure Pipeline, which was written in conjunction with industry leaders at the Australian Constructors Association, Infrastructure Sustainability Council (IS Council) and Consult Australia.
Panellists included Ainsley Simpson, Chief Executive Officer, IS Council; Samantha Johnson, Executive General Manager HSEQ McConnell Dowell; Pamela Henderson, Executive Director, Transport for NSW; and Craig McGrory Executive General Manager, Acciona Geotech, and was facilitated by Autodesk Industry Strategist Sumit Oberoi. Leaders in the panel discussed the aspirations but also the challenges in separating the marketing and promotion into tangible actions.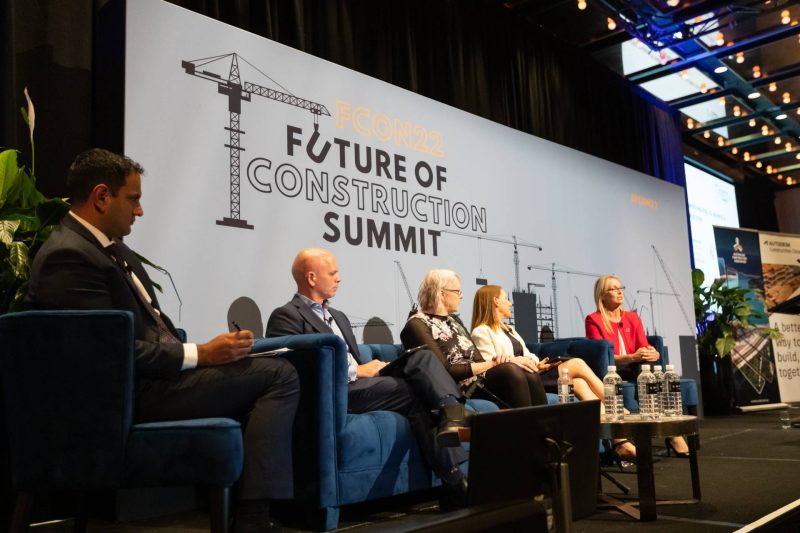 The discussion started with end-customer needs. Ms Henderson outlined that procurement practices will be a key aspect to achieving NSW's target of 50 percent reduction in carbon emissions by 2030 and net zero by 2050. She outlined the NSW government policy framework: "Sustainable Procurement in Infrastructure", and the industry consultation undertaken in supporting the approach.
Ms Simpson supported that procurement processes could catalyse positive change, but also highlighted the need for a harmonised approach for public infrastructure policy across different government agencies and jurisdictions to streamline decision-making, organisational capability and stakeholder expectations. Ms Simpson noted the importance for embedding ESG related considerations into the business-case development to enable net zero outcomes.
Ms Simpson noted the importance for embedding ESG related considerations into the business-case development.
Ms Johnson represented the contractor perspective calling for clarity and a path forward where industry can work in concert to achieve the objectives. Ms Johnson noted that need for baseline data and a standardised framework for data metrics is required to help achieve this outcome. Mr McGrory noted that if "we really value moving to net zero and the reduction of gross CO2 emissions, we must work together on commercial frameworks that incentivise all stakeholders to invest together to reduce carbon emissions, via design as well as developing new construction methodologies". In addition, Mr McGrory also highlighted and supported the leadership demonstrated by clients, including Victoria's Major Transport Infrastructure Authority and Transport for NSW, who are moving to more collaborative contracts and have built relationships to openly explore these opportunities, as well as their active assessment of innovation in delivery.
Industry capability and tools also formed a key theme in the follow-up roundtable discussion about Construction Sustainability in the spotlight. The session was attended by representatives from financial services, asset management, contracting, technology and sustainability professionals. Attendees of the roundtable were asked to assist with the prioritisation of enablers from one to eight (policy, procurement, technology, capability, materials, methodologies, supply chain and data measurement). It was noted that these enablers will assist with change across various aspects of project delivery as outlined in the research paper.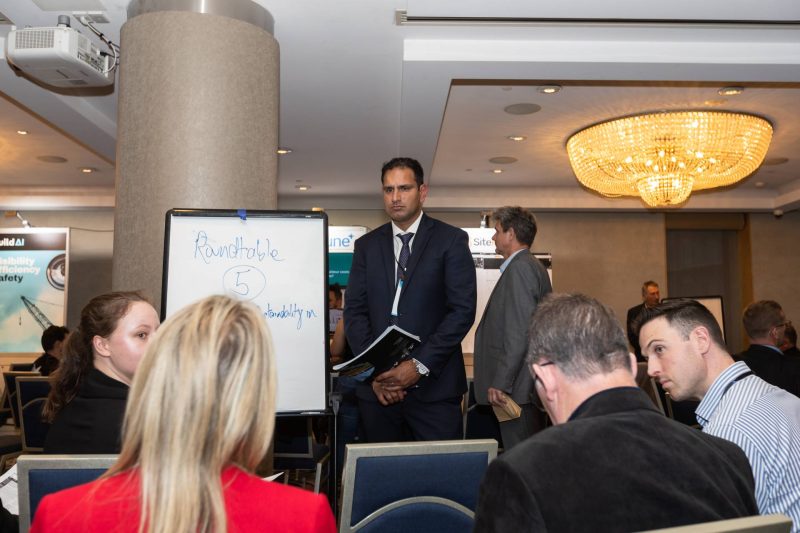 The attendees identified the lack of policy certainty as a primary driver inhibiting organisational certainty and investment in net zero emissions. The group noted a requirement to align investment decision-making with short-term and longer-term stakeholder expectations.
The data collected from the session also highlighted that the attendees see a critical need to improve industry culture, capability, and capacity to lead the change. Laing O'Rourke representatives outlined a survey undertaken of their 130 manufacturers and suppliers assessing their readiness to supply low-carbon solutions. The group discussed the importance in providing leadership throughout the supply chain, noting the importance of signalling intent rather than mandating when forming partnerships.
The group also discussed the need for consistent methodologies to inform data and measurement requirements. It was highlighted that the ability to leverage technology for improved data and insights to support a consistent industry framework. As recognised in the collaborative report A Net Zero Future: Delivered Through Our Infrastructure Pipeline, net zero is a shared initiative. The journey to a net zero future is made up of a multitude of long, winding and often-intersecting paths. While 2030 and 2050 emissions targets may seem daunting, the findings of this report demonstrate that our industry is capable of not only meeting but exceeding those targets – as long as our efforts are joint and comprehensive.
Guest author: Sumit Oberoi, Senior Manager, Industry Strategist APAC, Autodesk Construction Solutions