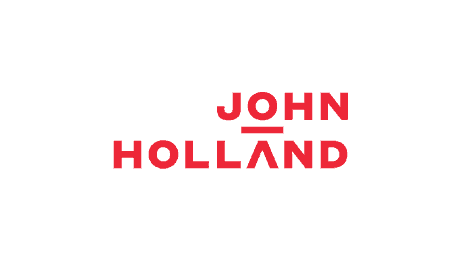 Contact
+61 3 8698 9400

Level 5, 380 St Kilda Road, Melbourne, VIC 3004
John Holland
John Holland is up for the challenge of improving lives.
From humble beginnings 70 years ago, John Holland has been driving positive change, and is now one of Australasia's leading infrastructure and property companies.
From Parliament House to the Alice to Darwin Rail Link, from the MCG's Great Southern Stand to Sydney Metro, John Holland had a hand in the Australia we all know today.
By finding people-centred solutions to complex challenges and opportunities, John Holland transforms communities to make them easier to move around, more connected and better to live in.
John Holland is currently involved in delivering many of Australia's largest infrastructure projects. Its work includes everything from building roads, tunnels, bridges and ports to providing services across property development, rail and building.
John Holland believes in sticking right beside its customers through every link of the project lifecycle to make sure the future of its cities and regional centres are as bright as they can be.
John Holland thinks deeply about what it does and how it affects communities. Pushing boundaries and innovating, gaining trust through actions and whatever the project, the organisation is in it for the long, long term.
The parent company, CCCI, is a wholly owned subsidiary of China Communications Construction Company Limited (CCCC), which is listed on the Hong Kong and Shanghai Stock Exchanges.
CCCC is one of the world's largest infrastructure construction companies. It is currently ranked #91 on the Fortune 500 list and #3 in Global Contractors by Engineering News Record (ENR). It is well recognised for technical expertise and execution of complex infrastructure including bridges, high speed rail, deep water port development and social infrastructure.