Reflecting on the past 12 months, 2021 is best described as the year industry united for reform.
There have been many milestones met this year and widespread collaboration between industry and government has been the key feature. As an industry, we are now largely aligned and the challenge for 2022 will be accelerating the pace of reform.
We are up for the challenge! Committed to building on the progress made, I'm delighted to share the news that our association's office bearers were returned following last week's Annual General Meeting:
Cathal O'Rourke, President
Scott Cummins, Vice President
Meg Redwin, Vice President
Duncan Gibb, Treasurer
Annabel Crookes, Company Secretary.
We remain committed to working collaboratively with the entire industry and all levels of government to achieve meaningful reform.
National construction conference and award
In keeping with our association's purpose of bringing stakeholders together, we are delighted to announce that we will be launching a national conference in May 2022 to provide further opportunities for industry and government to come together. The conference, known as the Future of Construction Summit, will be held over two days from 4-5 May in Sydney. Find out more here.
I am pleased to also announce that the Australian Construction Achievement Award (ACAA) gala event will be held on the evening of day 1 of the conference. The award, arguably the construction industry's most prestigious, recognises the best of the best in construction. It is awarded to projects that meet or exceed substantial criteria incorporating design, innovation, financial and operational deliverability, environmental, sustainability and safety, amongst others.
Stage 1 award entries close on 20 January 2022. Visit the ACAA website to enter.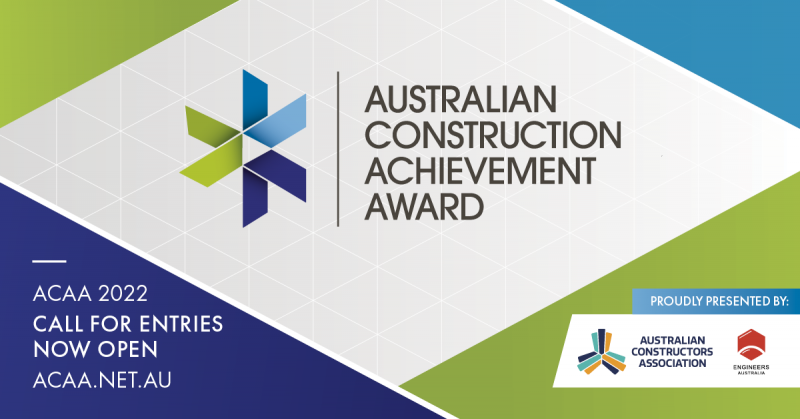 Culture in construction
Reflecting on this year, a major achievement was publicly releasing the industry's first ever culture standard. Incorporating three years of evidence obtained through research and pilot projects, as well as consultation, the culture standard focuses on our industry's most important asset—its people. If we want to keep our workers safe, attract new talent and keep pace with the growing demand for infrastructure, we need to tackle the big issues that have plagued our industry for decades. That begins with a national standard embedded in every job site that calls out bad behaviour, lifts the low rates of women entering our industry and removes the stigma that surrounds mental illness.
The consultation period for the draft culture standard closes on 17 December. Written submissions can be made here.
Alternatively, you can provide feedback through our interactive online tool here.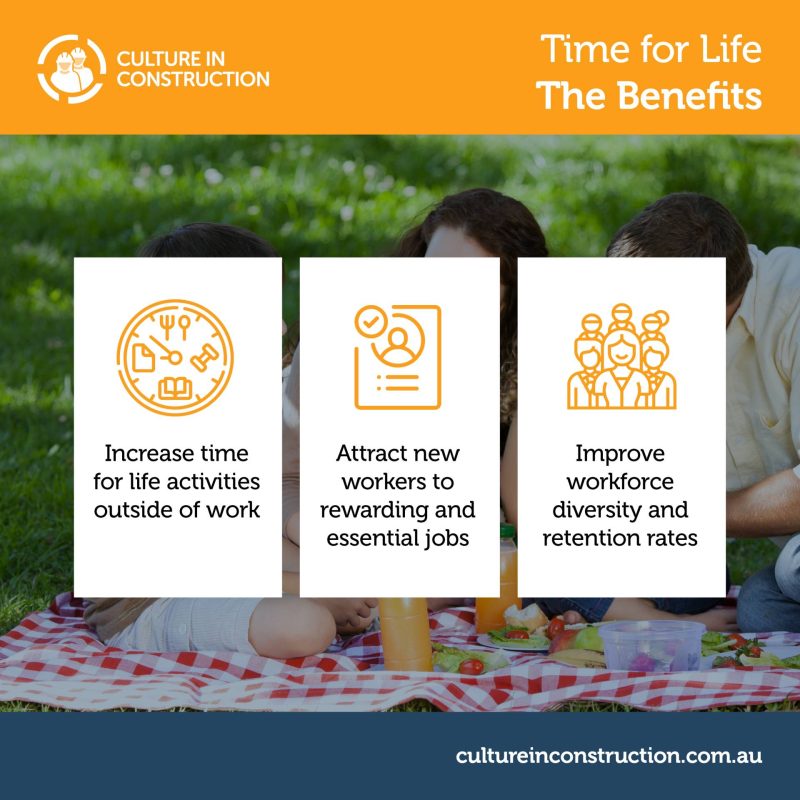 Pause procurement activity
The Australian Constructors Association has partnered with Consult Australia, Australasian Railway Association, Engineers Australia and Roads Australia in calling for public and private sectors to close live procurement processes over the end-of-year holiday period. Writing to all government procurement agencies across the nation, we have raised the critical importance of giving everyone the opportunity at all levels of the industry to have a well-deserved, uninterrupted rest.
Last year Queensland's Department of Transport and Main Roads led the charge implementing a 4-week tender blackout over Christmas. Similarly, the Department of Defence has a policy that running a live tender process through Christmas will be a rare exception, not the rule.
We are running a social media campaign to acknowledge the support received from the request. Please support this campaign by engaging with our LinkedIn posts.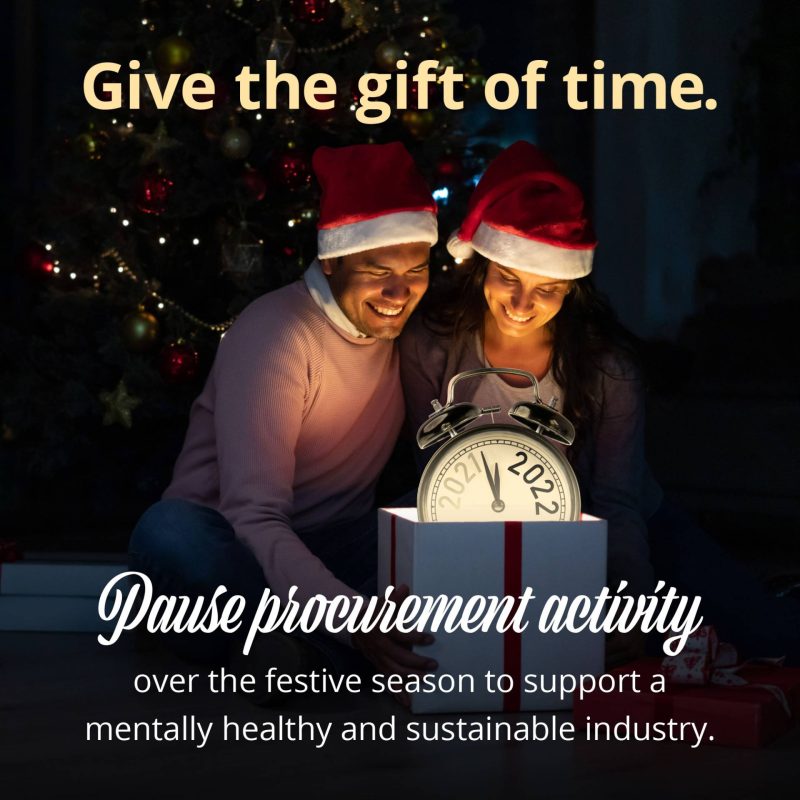 Thought leadership
Recognising our alignment on key issues with peer industry associations, the Australian Constructors Association has collaborated with several industry bodies this year to reach a large audience of stakeholders to influence change. Here are some of our thought leadership pieces.
Construction Engineer Learning and Development Guide
The scale of demand for skills across the construction industry is starting to exceed capacity, particularly in engineering occupations. To address the challenges and gaps around career progression and development of construction engineers, the Australian Constructors Association and Engineers Australia have developed a new Construction Engineer Learning and Development Guide. This industry-led initiative seeks to improve consistency in the training and development of engineers across the construction sector and to pave a pathway for construction engineers to be globally recognised in their area of expertise.
Join us for the launch of the guide on Tuesday 30 November – register.
A net zero future delivered through our infrastructure pipeline
We have been delighted to partner with Autodesk, Consult Australia and the Infrastructure Sustainability Council in developing the paper A net zero future delivered through our infrastructure pipeline. The paper, to be released shortly, sets out options and enablers that can be used to map the path to net zero in infrastructure. The pathway considers the lifecycle of the assets and industry change to be successful.
Partnership for change
The Australian Constructors Association and Consult Australia have joined forces to bring forward sector-wide reform proposals through the Partnership for change initiative. The initiative demonstrates a solutions-based approach to improve productivity and address challenges in the built environment. The first paper, to be published shortly, features adoption of technology within the construction and consultant sectors. Further papers will be released in 2022.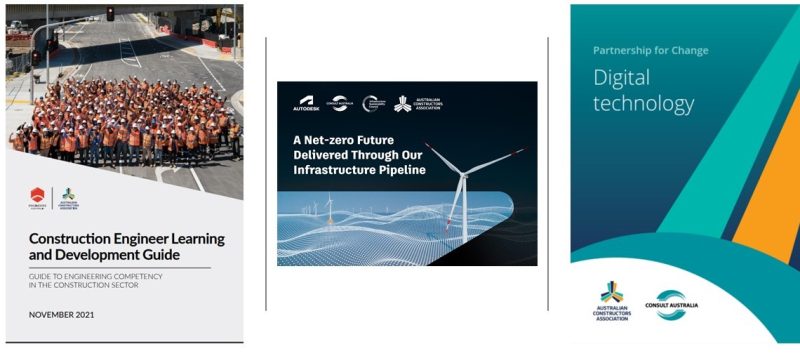 ConstructionTech industry survey
The Australian Government is seeking your views on the uptake and use of ConstructionTech in the industry. This survey will help inform the work of the Construction Expert Working Group, which is led by Craig Laslett. The Group will provide advice to the Australian Broadband Advisory Council on ways to support digital take up across the construction sector.
This is a valuable opportunity to have your say on how industry and government can work together to support the adoption of ConstructionTech. Complete the survey