Our reform drum is banging louder than ever – it has to, and we need your support.
The construction industry is on notice. The devastating collapse of Condev just weeks after Probuild was placed into administration has been a stark reminder of the poor health of Australia's construction industry.
Construction is Australia's third largest industry, and its sustainability is not something that should be taken lightly. A massive $218 billion has been invested in the construction of infrastructure over the next five years and this is a strategic response by government to help rebuild Australia's economy. If the industry cannot deliver, every Australian will feel the impact.
The industry is experiencing a major workforce shortage that, compounded by the recent devastating flooding on the East coast, is only predicted to get worse in the next 18 months without reform of how projects are procured and delivered.
The construction industry is a complex system. Projects are built by many interconnected teams of people fed by long supply chains that are ultimately managed by contractors. The interconnectedness of the industry is what makes change particularly challenging. However, if it is ever to change, the focus needs to be on optimising the system as a whole and not just one component such certain industry sectors or tiers.
We need to move beyond viewing construction as a zero-sum game, where unquantifiable risk can be transferred with no come back, where client, contractor and designer project teams spend on average four hours a week dealing with disputes and where lessons learnt are not shared to prevent their repeat.
Government and industry understand the problems and largely agree on the solutions. The challenge has been implementing those solutions. What has been missing is a mechanism to ensure reforms are implemented. We think we've found that mechanism and it's called FAIR!
Future Australian Infrastructure Rating
This month the Australian Constructors Association launched the Future of Australian Infrastructure Rating (FAIR) campaign calling on the Federal Government to coordinate and incentivise reform.
FAIR recognises that while the industry's challenges and solutions are known, positive action has been piecemeal at best and lacking coordination. Until now there has been no mechanism to ensure reforms proposed by expert bodies like Infrastructure Australia are implemented—let alone expedited. FAIR provides that mechanism.
FAIR is designed to rate government funded projects on how well they performed against a range of key reform areas such as improved productivity and increased innovation. Federally funded projects undertaken by state government delivery agencies would be given a rating that would be published on a website leading them to strive for increasingly better outcomes for their stakeholders.
Just like people who look at restaurant ratings, contractors, wanting the opportunity to demonstrate their capabilities, rather than their willingness to accept increasing levels of unquantifiable risk, would look at state government agency ratings when choosing where to focus their best resources, providing another reason for government delivery agencies to collaborate with industry to drive improved project outcomes.
With a focus on productivity, innovation and the sustainability of the industry, the FAIR initiative is the vehicle we believe will ensure the recommendations in Infrastructure Australia's latest report, Delivering outcomes, are implemented. Owners and delivery agencies are positioned to implement the best practice framework but without a clear mandate at a national level, change will continue to be slow and piecemeal.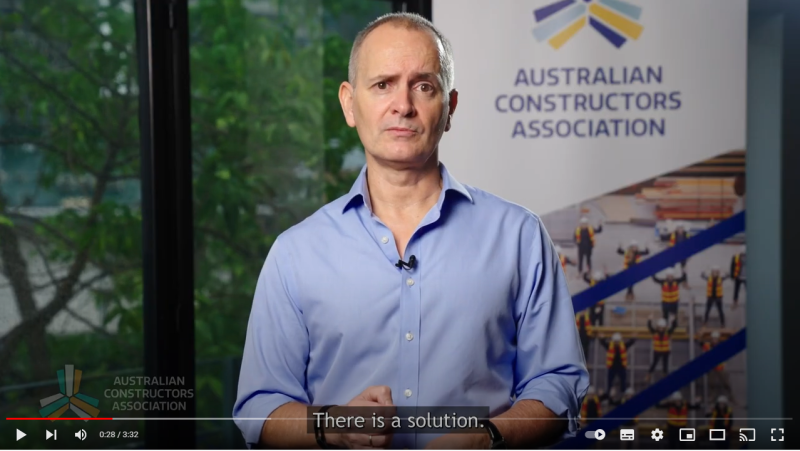 Visit our website for more information on FAIR.
Construction Industry Leadership Forum
The work of the Construction Industry Leadership Forum is gaining pace. The Forum's purpose is to improve the effectiveness and value of the procurement and delivery of government infrastructure programs. Through this forum, government and industry are working together to set a common agenda for change, share knowledge and set a program of activities to resolve commercial and contractual issues and address capability and capacity constraints. As such, we have established three workstreams with a focus on: value for money, procurement reform and capability and capacity. Information about the Forum and the workstreams can be viewed on the new Construction Industry Leadership Forum website at constructionleadership.com.au
Construction Industry Culture Taskforce
The Construction Industry Culture Taskforce was formed four years ago and is a partnership between the Australian Constructors Association and the governments of NSW and VIC. In recognising the complexities of cultural change, the Taskforce has worked closely with academics to identify what needs to be done to improve the culture of the industry. The findings of this research were used to develop the draft Culture Standard released late last year for consultation.
The Culture Standard is moving into the pilot stage. Key projects across NSW and Victoria of different project sizes, different contract forms and different construction types have been identified to trial the standard. Feedback from the pilots will inform the final Culture Standard which is expected to be implemented in government procurement processes in the near future.
Industry excellence
Now in its 25th year, the winner of the 2022 Australian Construction Achievement Award will be announced on 4 May at a black-tie function to be held at the Sofitel Wentworth in Sydney. The event showcases all the projects selected as finalists and highlights the innovation and project skills of each organisation.
Attendance at this event is a must for anyone in or connected to the industry. Book tickets today.
2022 Finalists:
Additional Works Package 1 – Cheltenham and Mentone Level Crossing Removal Project, Victoria by Southern Program Alliance (ACCIONA, Coleman Rail, WSP, Metro Trains Melbourne (MTM) and the Level Crossing Removal Project (LXRP)
Mordialloc Freeway, Victoria by McConnell Dowell Corp Ltd, Decmil Group and Major Roads Project Victoria
Woolgoolga to Ballina Pacific Highway Upgrade, New South Wales by Laing O'Rourke, WSP & Transport for NSW
Quay Quarter Tower, Circular Quay, New South Wales by Multiplex
R2P Alliance, South Australia by the Department for Infrastructure and Transport, McConnell Dowell, Arup and Mott MacDonald
Sydney Metro City & Southwest Tunnel and Station Excavation Works, New South Wales by John Holland CPB Ghella Joint Venture
Visit the Australian Construction Achievement Award website for more information: acaa.net.au
Future of construction
The Australian Construction Achievement Award gala dinner ties in with our Future of Construction Summit #FCON. Over two days from 4-5 May in Sydney, industry leaders will discuss the key issues facing the sustainability and productivity of the construction industry.
Agenda snapshot:
Day 1
Realising the $15B productivity opportunity
New norms not aspirations – changing the culture of the construction industry
Best for project outcomes – why collaborative commercial frameworks deliver better outcomes for all parties including the community
Growing the construction workforce with inbuilt capability
Fact or fiction – who is setting the direction for the industry?
Collaboration and visibility – why these are the keys to improving productivity and project outcomes
Implementing ESG to achieve a net zero future for construction.
Day 2
Leaving a legacy for the industry to follow
The construction industry is on the cusp of major structure change. Looking ahead, if reforms are implemented now, what will the industry look like in 10 years' time?
Setting the direction and unleashing the transformation to digital in construction.
Embracing the digitalisation of the construction industry
Examining the technology and trends driving change across modern construction
Digital engineering and construction innovation
Green Tech – examining how technology is transforming construction innovation and enhancing sustainability across projects.