The Australian Constructors Association has welcomed the publication of Infrastructure New South Wales' scorecard which tracks government's progress against 10 commitments made to the sector as part of the 2018 NSW Action Plan.
Chief Executive Jon Davies praised the commitment to transparency and accountability but cautioned that there is still a long road ahead to meet the objectives of the NSW Action Plan. "Industry welcomes transparency and accountability and acknowledges that the approach undertaken is a major step forward in creating a sustainable construction sector in the state."
"Government is often accused of hiding from scrutiny and lacking accountability. Therefore it is very pleasing for Infrastructure New South Wales to commit to the benchmarking and continuous review its performance against its long term commitments to the sector.
"However, we would argue that self-reflection does not always provide the most accurate picture of progress, and an element of independent objectivity is required. On behalf of Industry, we commissioned research by BIS Oxford Economics to understand how the sector believes Infrastructure New South Wales is performing."
"The study has analysed the sentiment of the sector through researching projects being delivered by our members in NSW and comparing performance against Infrastructure New South Wales' 10 Commitments."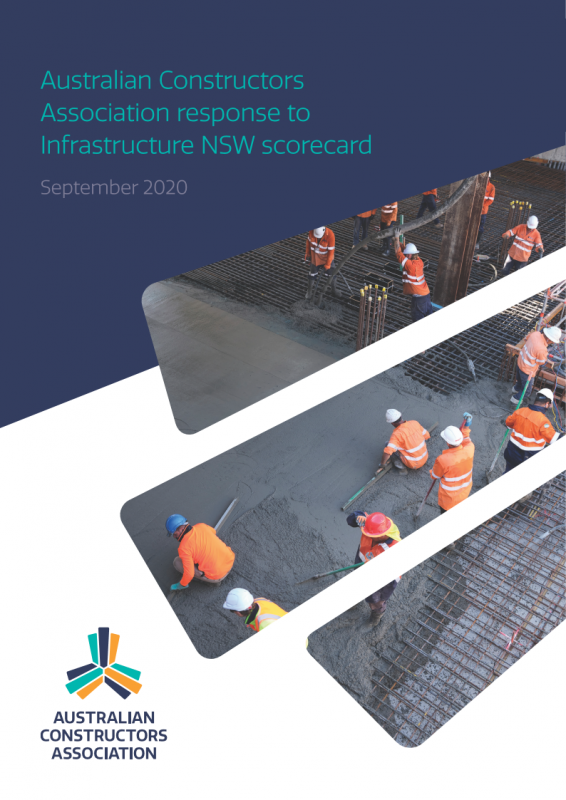 DOWNLOAD THE SCORECARD RESPONSE
The findings of the independent research show that while commendable progress has been made, there are still significant challenges in relation to key areas of reform. "The biggest gaps in perception of performance and reform that the research has uncovered are in the areas of risk allocation, bid costs and standardisation of contracts. They are arguably the areas that cause Industry the most pain and are certainly those that we would wish to have seen addressed as a priority and we encourage Infrastructure New South Wales to work with Industry to expedite improvements in each area."
"Risk allocation, bid costs and standardised contracts are significant impediments on the sector's commercial performance and significantly hampers the profitability of the sector and the ability of organisations to invest in capacity, capability, skills and innovation," said Mr Davies
ACA believes that a unified and collaborative approach is required to close the gap between the scorecard's metrics and the reality of the sector, believing that mechanisms are in place to facilitate change. "Through initiatives like the Construction industry Leadership Forum, Government and Industry has a perfect opportunity to collaborate and progress change, and we believe that much can be achieved," said Mr Davies.
Through CILF, ACA has called on Government and Industry to:
Identify aspects of the 10 Point Commitment that are working and understand why.
Identify areas where Government Agencies and Industry are not aligned, and key factors influencing this.
Develop a set of agreed measurable objectives to demonstrate progress on the 10 Point Commitment and commission a joint review to be completed with Industry in 2021
Industry also recognises that accountability is not a one-way street and ACA and our members are committed to transparency and ownership of the need for change across the sector, "We recognise the importance of all parties committing to change. We will shortly publish our own commitments to the sector against which we can be held accountable. As the commitments are released, and we work towards their achievement, we will welcome frank and fearless feedback so that we can hold up our end of the bargain and ensure that our sector is sustainable, equitable and fair for all parties," said Mr Davies.