COVID-19 INFORMATION AND RESOURCES
The Australian Constructors Association is committed to the wellbeing of everyone in our industry. To provide clarity, advice and essential resources during the COVID-19 pandemic, we have collated a range of information and resources to support our members, suppliers and partners in the safe operation of workplaces across Australia.
NSW
From Saturday 31 July, construction can resume, provided principal contractors comply with the COVID-19 Safety Plan for Construction Sites in Greater Sydney, developed by government and industry.
Measures include controls on movements between sites, reduced contact between workers within sites, improved tracing capability and a focus on encouraging workers to get vaccinated.
All worksites must complete the checklist as an enforceable condition of resuming operations from 31 July. Worksites will be able to operate on Sundays and public holidays up until Christmas to make up for any time lost.
Please note that construction sites will remain closed in the Blacktown, Canterbury-Bankstown, Campbelltown, Cumberland, Fairfield, Liverpool, Parramatta and Georges River local government areas.
Residents from the identified LGAs cannot leave their local area to attend work, unless they are an authorised worker. Workers at those businesses critical to the construction supply chain will be listed as authorised workers, including workers engaged in manufacturing of construction materials, plant and components. General construction workers are not authorised workers.
Some authorised workers may need to meet COVID-19 testing requirements. Authorised workers can be required to provide proof of residential address.
To enable construction sites to resume safely on 31 July, preparatory works can begin from 29 July. These works include:
checking or maintaining installations or equipment
cleaning, waste removal or waste management
stocktaking or restocking
delivery of materials or equipment
servicing or installation of amenities
relocation on the construction site of plant or equipment
issuing permits or certificates
establishing arrangements or procedures to help protect persons from COVID-19
erecting fencing or hoarding
inspections, including for technical reasons, or safety, including work, health and safety, or for valuations or other financial reasons
removing water
connecting power, fuel or services
safety work, including work related to fire safety or electrical safety
surveying or marking out
training required to be carried out on the construction site.
View the latest public health orders relating to Temporary Movement and Gathering Restrictions.
Workplace restrictions – Victoria
Following a reduction in community transmission of coronavirus in Victoria, Victoria's Chief Health Officer has advised that the lockdown will be lifted state-wide from 11.59pm 27 July 2021.
Victorians will be able to leave their homes for any reason. Masks will continue to be required everywhere indoors and outdoors (except private residences), unless an exception applies.
View the table of restrictions.
Revision 13 of the Building and Construction Industry COVID-19 Guidelines are issued as of 11 June 2021 and take effect immediately. Consistent with Department of Health Workplace Directions No 36, issued 8 July 2021, the following are the major updates.
For more information, visit coronavirus.vic.gov.au or call the Business Victoria hotline on 13 22 15.
Health Resources
The following links will take you to the relevant health information and resources from the federal, state and territory governments:
Examples of Industry Best Practice
Our members are committed to the health and well being of our people and to ensuring that sites are managed in line with government advice. Across Australia projects have adapted their working practices, innovating every aspect of project delivery from remote back office working to socially distanced toolboxes and thermal testing procedures.
Acciona
Across sites, Acciona has installed clear and prominent signage to remind to all team members of their obligations.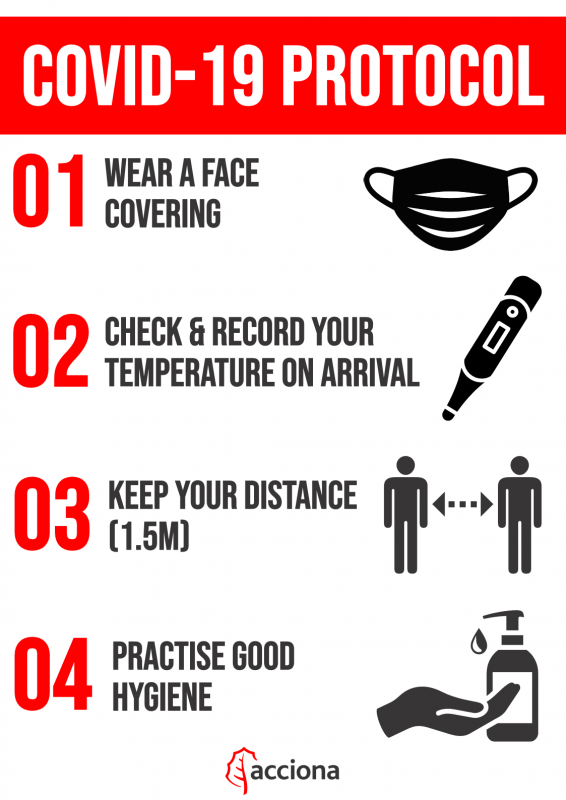 Clough
Clough's logistics team on the BHP South Flank OHP Project were awarded crew of the month for their response to COVID-19 measures. They not only responded to COVID-19 measures by ensuring social distancing in crib rooms, organising additional cleaning and sanitisation, and identifying and eliminating fomite touch points, but they also safely achieved all the required milestones for the progression of the scope of work. In addition, they managed to raise funds for the Newman Women's Shelter.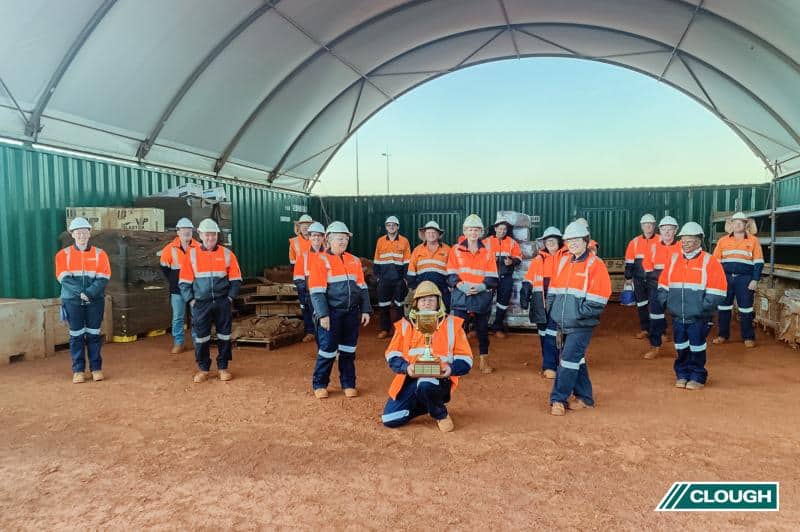 Fulton Hogan
On Fulton Hogan sites, social distancing, masks, thermal scanning and handsfree sign-in processes are the norm, and all teams and contractors are playing their part in the wellbeing and health of each other and the community.
Laing O'Rourke
Laing O'Rourke has share detailed guidelines for all team members transitioning back to work following the easing of restrictions in some states, including a comprehensive return to work plan.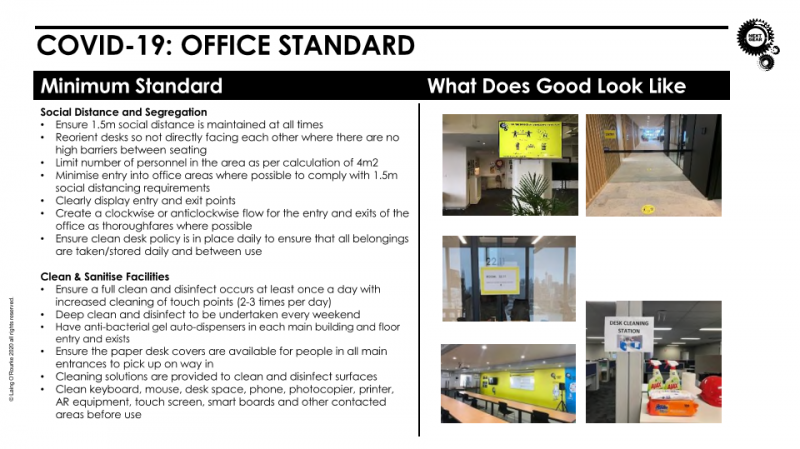 McConnell Dowell
McConnell Dowell is ensuring that across every site, there are industry-leading measures in place to ensure the wellbeing of their team members including:
Contactless site sign in and tracking of room usage through QR codes
Temperature testing very person entering site
Covid-19 drill undertaken (WorkSafe participated)
Hand sanitiser on every desk and in every meeting room
Daily communications and bulletins reinforcing social distancing, PPE requirements, stay at home if symptomatic
Continual PPE compliance audits
In addition, all projects have implemented COVID-19 specific site-cleaning training for project peggies and cleaners delivered by professional occupational hygienists.