COVID-19 INFORMATION AND RESOURCES
As an association, the Australian Constructors Association is committed to the wellbeing of everyone in our industry. To provide clarity, advice and essential resources during the COVID-19 pandemic, we have collated a range of information and resources to support our members, suppliers and partners in the safe operation of workplaces across Australia.
Workplace restrictions – Victoria
Revision 12 of the Building and Construction Industry COVID-19 Guidelines was issued on 23 April 2021.
Consistent with Department of Health Workplace Directions No 24, issued 9 April 2021 and Stay Safe Directions No 19, the following are the major updates:
State of Emergency
The State of Emergency powers of the Victorian Government are extended to midnight 7 May 2021. These powers enable the government and Department of Health to make and enforce Workplace and Stay Safe Directions to manage the Coronavirus pandemic in Victoria.
COVIDSafe Plan
Under the Chief Health Officer's Workplace Directions, each employer must have a COVIDSafe Plan. Importantly, employers are reminded to update their COVIDSafe Plans regularly and as always, to consult with employees and their representatives in doing so.
Workplace Mapping and QR Codes
The Guidelines also encourage the use of appropriate electronic workplace mapping including QR codes wherever possible and employers are encouraged to check that their service is compatible with the Victorian Government's QR Code Service, which is a free service that directly links to the Department of Health contact tracing team.
Face Masks
Consistent with the Stay Safe Directions, face masks MUST still be carried at all times and our Guidelines continue to require that face masks MUST still be worn when physical distancing is not possible at work and particularly when travelling in hoists/lifts.
COVID Marshals
The Guidelines also retain the requirement for COVID Marshals for Large Scale Construction projects/sites.
Incolink/Protect Hardship payments
Assistance remains available for those workers who may be experiencing hardship as a result of the COVID-19 pandemic.
Government assistance
Commonwealth government assistance via the Job Keeper and Job Seeker schemes has now ceased. The Victorian Government has a number of assistance schemes, now referenced.
Health Resources
The following links will take you to the relevant health information and resources from the federal, state and territory governments:
ACA Advocacy
As an industry, we play a vital role in the Australian economy and society. We help to meet the nation's infrastructure needs, delivering world-class construction projects across the infrastructure construction, commercial and residential building, renewables, resources, telecommunications, oil & gas and environmental services sectors.
The nation's third-largest sector, we contribute $137bn (Gross Value Added), representing 7.2% of Australia's total economic activity. Our industry employs 1.17 million people or 9.6% of total employment and accounts for approximately one-third of all registered businesses.
The importance of the construction sector to the Australian economy cannot be understated. Through the design, development and delivery of essential infrastructure, we are vital to long-term economic growth with every $1 spent on infrastructure boosting economic activity by nearly $3 through the beneficial flow on to the sector's supply chain and associated industries.
As an association, we will continue to advocate for our sector, while reinforcing support for appropriate measures to be taken by all parties to minimise the spread of COVID-19. This will ensure that our sector is positioned to lead the nation's economic recovery.
Chief Executive, Jon Davies has been active in the media, supporting our sector and ensuring we can continue to deliver essential works across Australia.
Australian Financial Review, 6 August 2020 – ACA CEO Jon Davies today welcomed the latest clarifications on Level 4 restrictions from the Victorian Government but noted that more clarification was required. Read more: https://www.afr.com/property/commercial/tradies-get-a-reprieve-but-735-construction-projects-still-at-risk-20200806-p55j30
Examples of Industry Best Practice
Our members are committed to the health and well being of our people and to ensuring that sites are managed in line with government advice. Across Australia projects have adapted their working practices, innovating every aspect of project delivery from remote back office working to socially distanced toolboxes and thermal testing procedures.
Acciona
Across sites, Acciona has installed clear and prominent signage to remind to all team members of their obligations.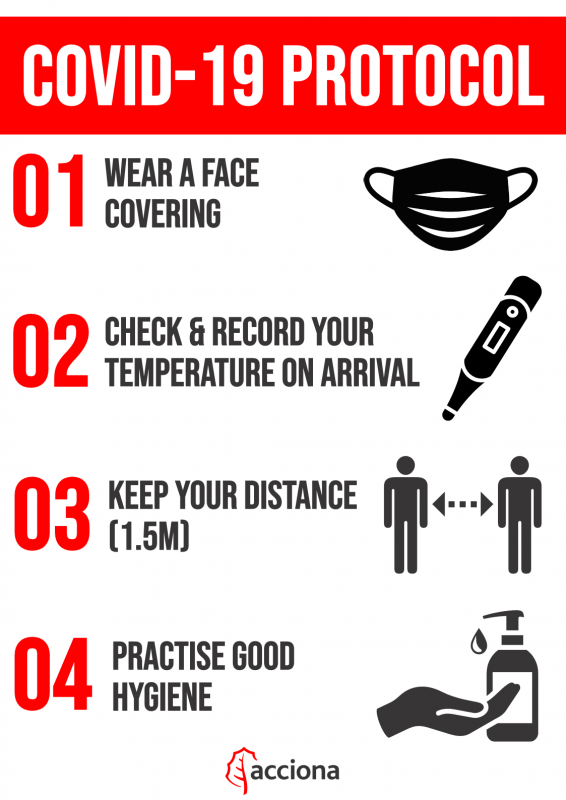 Clough
Clough's logistics team on the BHP South Flank OHP Project were awarded crew of the month for their response to COVID-19 measures. They not only responded to COVID-19 measures by ensuring social distancing in crib rooms, organising additional cleaning and sanitisation, and identifying and eliminating fomite touch points, but they also safely achieved all the required milestones for the progression of the scope of work. In addition, they managed to raise funds for the Newman Women's Shelter.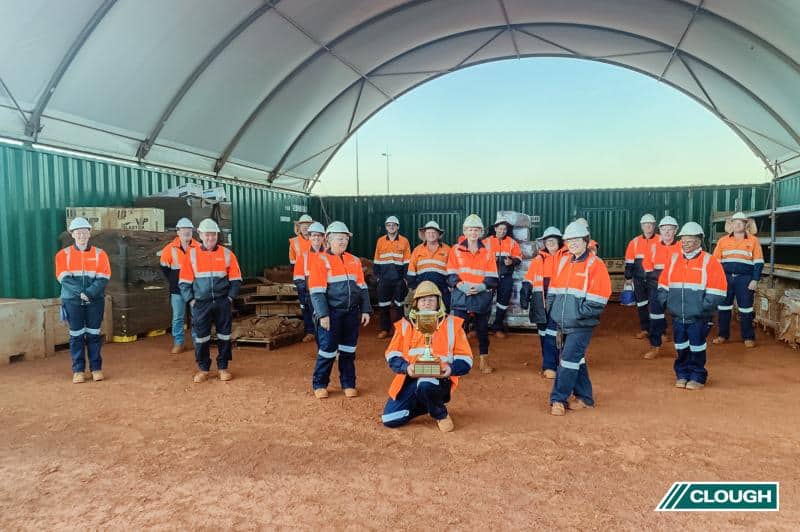 Fulton Hogan
On Fulton Hogan sites, social distancing, masks, thermal scanning and handsfree sign-in processes are the norm, and all teams and contractors are playing their part in the wellbeing and health of each other and the community.
Laing O'Rourke
Laing O'Rourke has share detailed guidelines for all team members transitioning back to work following the easing of restrictions in some states, including a comprehensive return to work plan.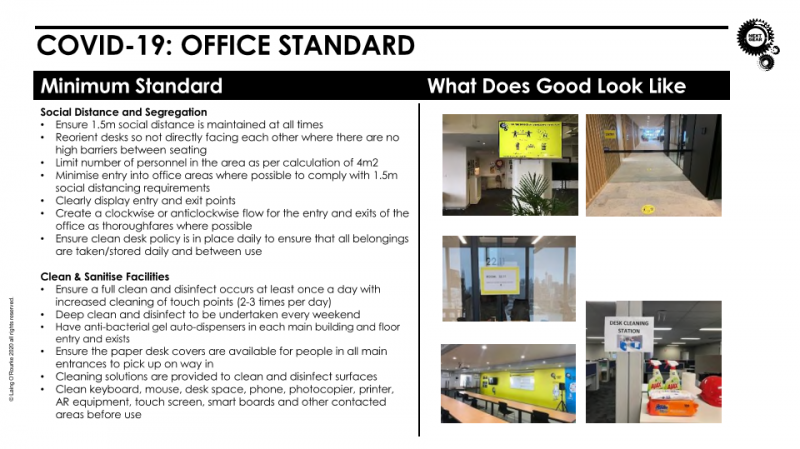 McConnell Dowell
McConnell Dowell is ensuring that across every site, there are industry-leading measures in place to ensure the wellbeing of their team members including:
Contactless site sign in and tracking of room usage through QR codes
Temperature testing very person entering site
Covid-19 drill undertaken (WorkSafe participated)
Hand sanitiser on every desk and in every meeting room
Daily communications and bulletins reinforcing social distancing, PPE requirements, stay at home if symptomatic
Continual PPE compliance audits
In addition, all projects have implemented COVID-19 specific site-cleaning training for project peggies and cleaners delivered by professional occupational hygienists.